KONICA MINOLTA's complete line of office laser printers offers both colour and monochrome systems, from Small Office/Home Office to General Business and advanced graphics applications.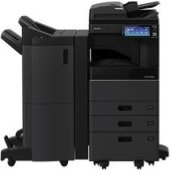 Your business-whether it's small, mid-sized, or large-will benefit from the increased productivity and flexibility afforded by TOSHIBA copiers. From basic, low-volume black and white copying needs to high-volume, multifunctional digital colour copiers that are capable of printing, faxing, scanning, and emailing, you can depend on Toshiba for a copier that fits the needs of your business – and a purchase you won't regret.
Follow Us
Learn more about Office Printers, Copiers, and Multifunction Devices from TOPS Office.
Call us today