Zulty's platform allows businesses to easily deploy a complete voice and Unified Communications solution to all of their offices and teams together through a highly survivable distributed network. Zulty's products include:
Advanced, feature-rich IP phone systems
Family of SIP handsets
Unified Communications solutions
CRM and Application Integration
Collaboration and Conferencing systems
Advanced Contact Center solutions
These leading edge, comprehensive unified communication solutions are flexible, easy to use, and cost-effective; and enable companies of all sizes to improve productivity, enhance customer service, reduce costs, grow sales and increase profitability. TOPS Telecom can help you identify which products are right for you and tailor a solution that fits your company.
Featured Zultys Telecom Products
IP Phone Systems
MX250 – The MX250 IP phone system is a feature-rich enterprise-class business IP telephony system that supports high quality VoIP and Unified Communications services for up to 250 users on a single appliance and can be seamlessly expanded through an MXnetwork to support up to 10,000 users and 128 offices across an enterprise-wide Unified Communications system.
MX-SE – The MX-SE is a robust IP phone system that enables high quality VoIP and Unified Communications services for up to 50 users in a smaller office or branch location environment. The MX-SE IP phone system also may be part of an MXnetwork that seamlessly links up to 128 offices and 10,000 employees into an enterprise-wide Unified Communications system.
MXvirtual- Zultys MXvirtual is a fully integrated unified communication solution and IP phone system in a VMware®-Ready virtual appliance. Innovative, reliable and scalable, MXvirtual integrates voice, video, data and mobility, to optimize collaboration and communications for businesses of all sizes.
CLOUDservices
For the ultimate in ease and convenience, you can choose a fully hosted and managed Zultys MX system with packages designed for standard business users, premium features for comprehensive unified communications capabilities, and contact center packages ideal for customer service, sales and support organizations.
IP Phones
The Zultys IP (ZIP) series of IP telephones are designed to be stylish, easy to install and operate and enhance productivity. With sleek and elegant designs, the carrier-class ZIP series IP phones are designed to take advantage of the feature-rich Zultys family of award-winning IP phone system platforms. Zultys phones can be mixed and matched to meet individual job functions or requirements, and interoperate with a number of other third party SIP Phones as well.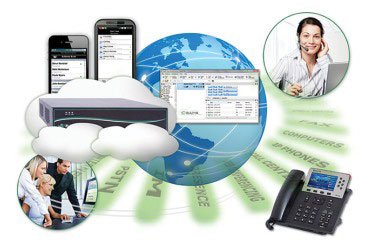 Call Now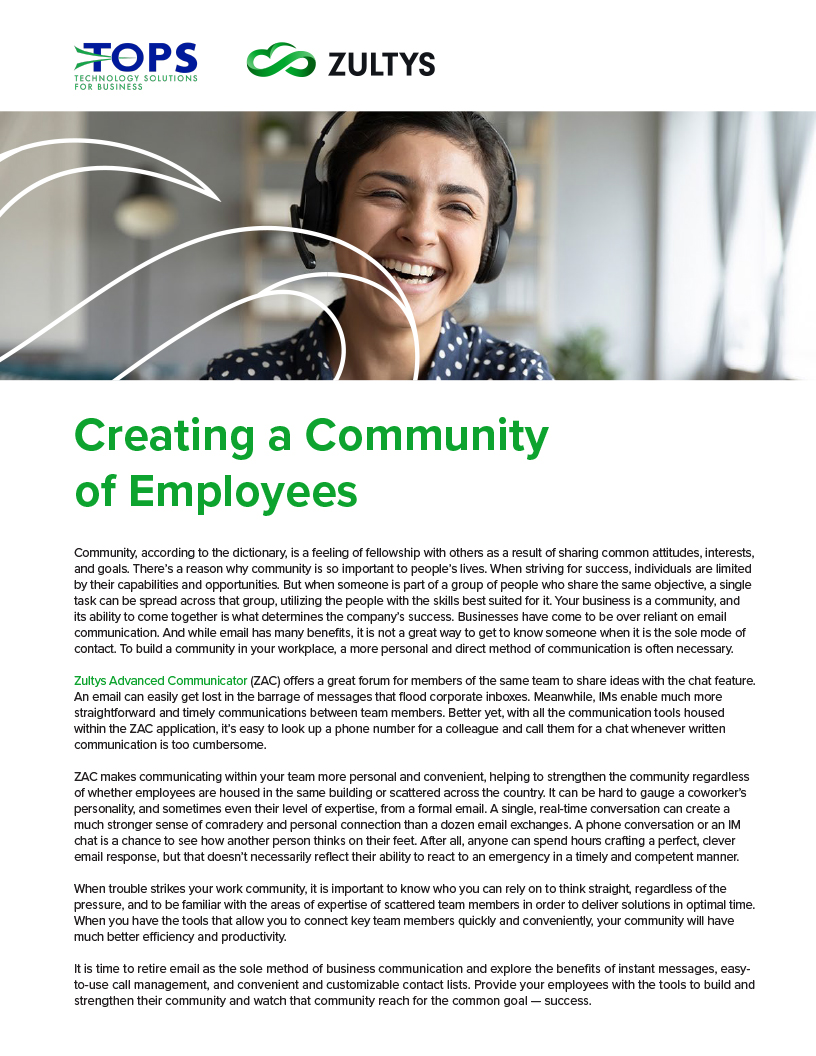 Creating a Community of Employees
Community, according to the dictionary, is a feeling of fellowship with others as a result of sharing common attitudes, interests, and goals.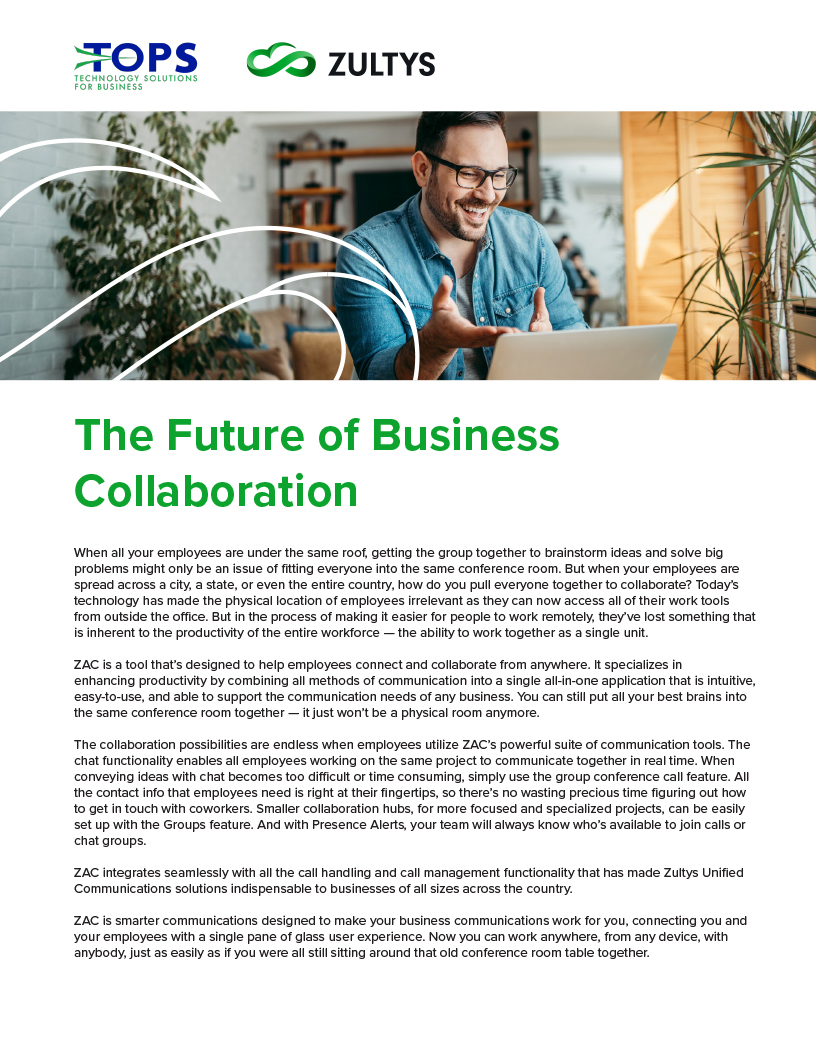 The Future of Business Collaboration
When all your employees are under the same roof, getting the group together to brainstorm ideas and solve big problems might only be an issue of fitting everyone into the same conference room.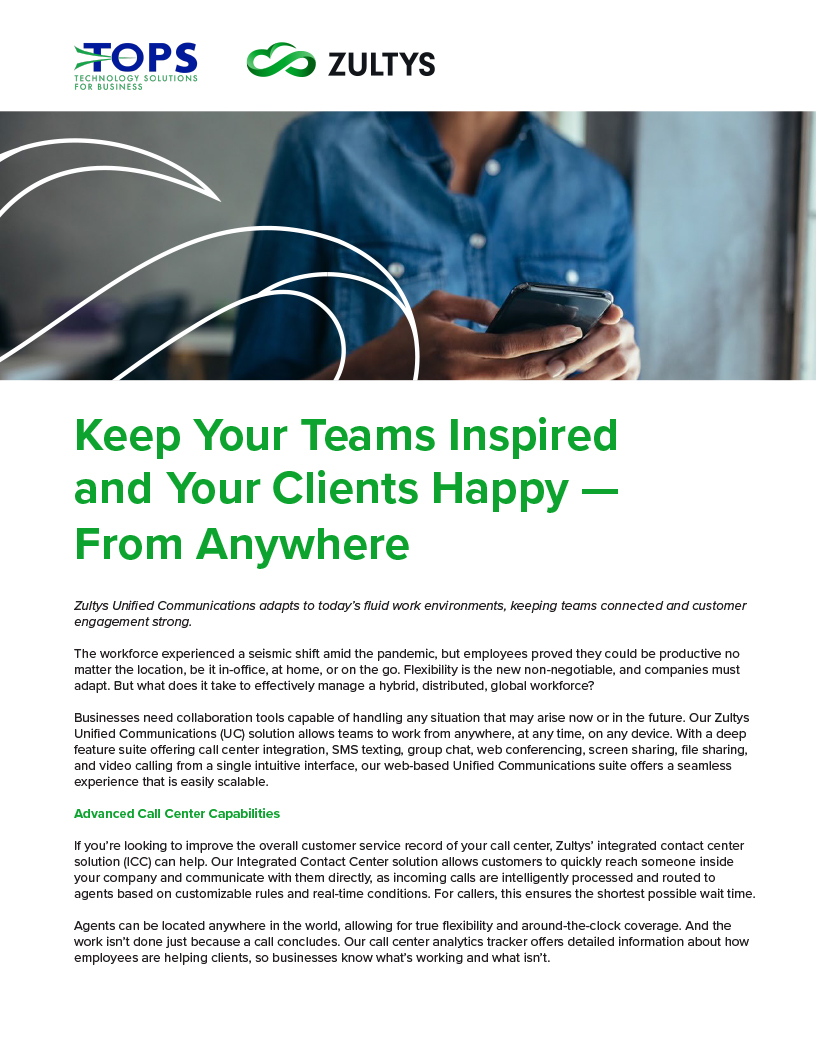 Keep Your Teams Inspired and Your Clients Happy — From Anywhere
Zultys Unified Communications adapts to today's fluid work environments, keeping teams connected and customer engagement strong.