Toshiba's Telecommunications products are focused on creating highly customizable communications solutions, consisting of award winning IP telephone systems, video collaboration tools, call center applications, and custom systems applications. Toshiba solutions enable your employees- wherever they are- to work as a single, unified company on the same enterprise-wide telephone system.
TOPS Telecom is dedicated to supporting businesses of all sizes transition into the IP world. We can help tailor the right Toshiba solution for small and large businesses, retail locations, and branch offices of multiple-site enterprises.
Featured Toshiba Telecom Products
Toshiba IP Telephone Systems
Strata® CIX IP Business Telephone Systems
Toshiba's IP business telephone systems provide solutions for organizations who want a mix of IP, digital, and analog endpoint devices connected to their system along with IP telephony and unified communications applications.
Toshiba Business Phones
5000-Series IP Business Telephones
Built to withstand the rigors of any busy workplace, Toshiba IP Business Telephones combine slim profile design with sophisticated features and call-handling enhancements for increased productivity in any business environment.
5000-Series Digital Business Telephones
Toshiba's digital business telephones have a sleek, functional design, easy to read LCD screens, and are loaded with options and features. As easy to program as they are to use, Toshiba's digital telephones let you work smarter, reduce training time, and enhance productivity.
Toshiba System Applications
Toshiba offers a complete suite of tools that work with your IP communications systems and will enhance your communication capabilities, no matter what size of business you have.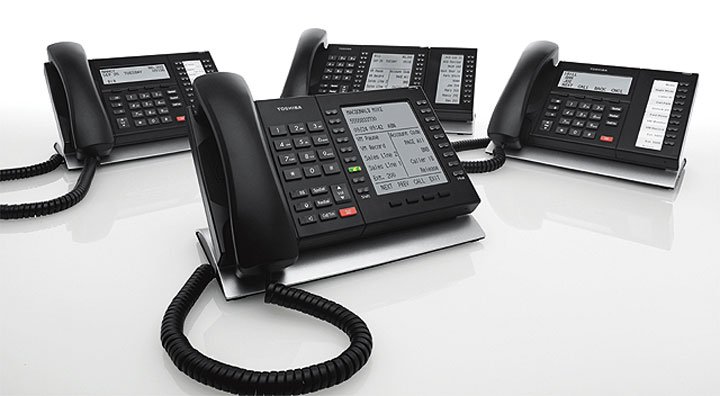 Call Now